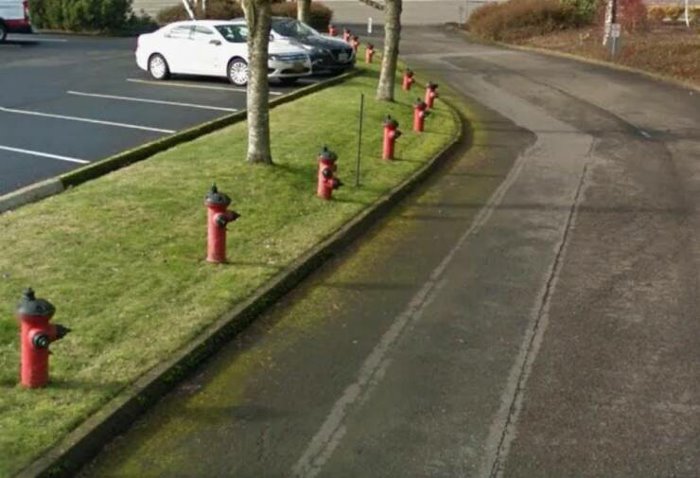 *
"Lahat tayo ay may papel sa mundo, tuwing quiz lang wala."
*
"Siguro nga hanggang dito na lang ako. Siguro nga hindi na ako magiging sentro ng atensyon mo. Ok lang, masaya na akong nasa gilid lang ako ng paningin mo." – MUTA
*
Alam mo ba… na ang PUKE ay synonymous to VOMIT?
Ano ulit ang basa mo?
*
10 Conyo-mandments
1.  Thou shall make gamit "make+pandiwa".
ex. "Let's make pasok na to our class!"
"Wait lang! I'm making kain pa!"
"Come on na, we can't make hintay anymore! It's in Andrew pa, you
know?"
2. Thou shall make kalat "noh", "diba" and "eh" in your pangungusap.
ex. "I don't like to make lakad in the baha nga, no? Eh diba it's like, so
eew, diba?"
"What ba: stop nga being maarte noh?"
"Eh as if you want naman also, diba?"
3. When describing a whatever, always say "It's SO pang-uri!"
ex. "It's so malaki, you know, and so mainit!"
"I know right? So sarap nga, eh!"
"You're making me inggit naman.. I'll make bili nga my own burger."
4. When you are lalaki, make parang punctuation "dude", 'tsong" or "pare"
ex. "Dude, ENGANAL is so hirap, pare."
"I know, tsong, I got bagsak nga in quiz one, eh"
5. Thou shall know you know? I know right!
ex. "My bag is so bigat today, you know"
"I know, right! We have to make dala pa kasi the jumbo Physics book
eh!"
6. Make gawa the plural of pangalans like in English or Spanish .
ex. "I have so many tigyawats, oh!"
7. Like, when you can make kaya, always use like. Like, I know right?
ex. "Like, it's so init naman!"
"Yah! The aircon, it's, like sira!"
8. Make yourself feel so galing by translating the last word of your sentence, you know, your pangungusap?
ex. "Kakainis naman in the LRT! How plenty tao, you know, people?"
"It's so tight nga there, eh, you know, masikip?"
9. Make gamit of plenty abbreviations, you know, daglat?"
ex. "Like, OMG! It's like traffic sa LRT"
"I know right? It's so kaka!"
"Kaka?"
"Kakaasar!"
10. Make gamit the pinakamaarte voice and pronunciation you have para full effect!
ex. "I'm, like, making aral at the Arrhneo!"
"Me naman, I'm from Lazzahl!"
*
Bakit kaya may mga taong HARD TO GET?
HARD TO LIKE naman ang mukha!
*
BOY: "Miss, pwede magtanung? anung oras na?"
GIRL: "Nagtatanung ka ng oras? Tapos tatanungin mo name ko? Tapos hihingin mo number ko? Tapos liligawan mo ako? Tapos after 1 month, pacharming akong sasagutin kita.. tapos bibisita ka sa bahay..tapos mag-d-date tayo.. tapos siempre pakipot naman ako.. tapos dadalhin mo ko kahit san lang.. tapos may mangyayari sa tin.. tapos mabubuntis ako…tapos papakasal tayo.. tapos bubugbugin mo lang ako! at pano na ang bata?! Hindi! Hindi ko sasabihin kung anung oras na! "
BOY: (speechless)
*
TEACHER: "Johnny, give me a sentence using the word, 'geometry.'"
JOHNNY: "A little acorn grew and grew until it finally awoke one day and said, 'Gee, I'm a tree.'"
*
A blonde had a near death experience recently when she went horseback riding. Everything was going fine until the horse started bouncing out of control. She tried with all her might to hang on, but was thrown off. With her foot caught in the stirrup, she fell head first to the ground. Her head continued to bounce on the ground as the horse did not stop or even slow down. Just as she was giving up hope and losing consciousness, the Wal-Mart manager came out and unplugged
it. Thank goodness for heroes.
*
A kindergarten pupil told his teacher he'd found a cat. She asked if it was dead or alive.
"Dead," she was informed.
"How do you know?", she asked.
"Because I pissed in his ear and it didn't move," said the child innocently.
"You did WHAT?!?", the teacher squealed in surprise.
"You know," explained the boy, "I leaned over and went 'pssst' and he didn't move."
*
"Nagpagod ka lang! Nagpakahirap kang saliksikin at hanapin ako, nang makita mo ko itatapon mo rin pala ako!" – Kulangot
*
** All of the above jokes courtesy of WS.
Sent from my BlackBerry PlayBook
www.blackberry.com
oOo
"Ayokong ako ang maging mundo ng isang tao. Tama na yung maging parte lang ako. Yung tipong kapag nawala ako, hinding-hindi sya mabubuo."